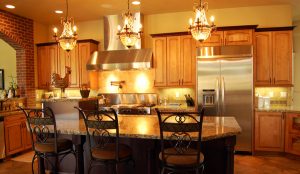 If you are building a new kitchen or remodeling your existing one, then you know that countertops are an essential part of the planning process. The right appliances are important to have and should be considered in detail, but the choice of countertop design and material sets the stage for the entire kitchen. Your new kitchen should flow well with the rest of your home, and the right countertop design will ensure that it does.
When it comes to customizing the best granite countertops for your space, it is important to assess the specific needs of your family. Will you do a lot of entertaining in your kitchen? Do you have children that need to work on homework as you prepare dinner? Are you looking more at frills or function?
Each of these questions provide answers that will affect the direction you go with the shape and edges of your countertops. At Moreno Granite and Marble, we offer our customers a ton of customization options that serve in making their new kitchen a unique fit. We are able to fabricate a large variety of edges that will change the look and flow of your kitchen, and our premium edges are specifically designed for granite slabs that are intended to create a bold statement.
If there is a portion of your countertop that will welcome the most guests as they enter your kitchen, then you may want to consider adding a premium edge that is more striking than the standard rounded one. This adds a touch of luxury to your kitchen that goes beyond a coat of paint or a decorative vase. By changing the shape of your countertop, you are enhancing the entire room.
Give us a call today to find out how you can meet with one of our project managers and get started on your new granite project!