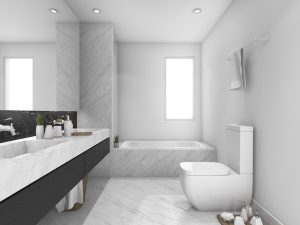 For those of us who want a touch of elegance in our homes but cannot afford the same luxuries as others, we have to think through our options. How can we make our home look amazing without spending a fortune? Which elements do we most want to enhance, and how do we go about bringing that "wow" factor? By installing natural stone elements, such as marble, throughout your house, you are adding both quality and luxury.
Natural stone slabs have a way of drawing attention to themselves because of their unique patterns and beautiful textures. Marble and granite are two of the most popular choices for countertops and tabletops throughout the home because they offer a durable and functional surface. Marble is particularly appealing for those home owners who are looking to install new countertops in their bathrooms.
A marble surface is likened to something that you would find in a palace yet can be custom designed and installed in your own home. It is a win-win! You gain a product that will stand up to the wear and tear of one of the busiest and messiest rooms in your house, and you also create a new space that you want to show off to all of your visitors. Rather than having that guest bathroom that you try to hide and ignore, you can establish a beautiful space that you enjoy looking at every day.
Moreno Granite and Marble is DFW's best source of custom design, fabrication and installation when it comes to marble countertops. Our family owned and operated business has a wealth of experience in designing bathroom projects that incorporate the beauty of natural stone and yield many satisfied customers. Give us a call today for a free estimate. We'd love to get started working on your home!