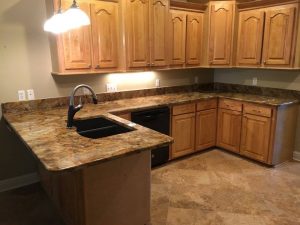 When you are taking the plunge into the world of remodeling, then you want to trust your time and money with only the best companies out there. In the greater DFW area, one of those such companies is Moreno Granite and Marble. We offer not only the highest of quality when it comes to our natural stone countertops, but also the highest of quality in the realm of customer service satisfaction.
Our team of designers and technicians are dedicated to providing our customers with the best experience possible, and we know that means hard work and attention to the smallest of details on our part. We meet with each of our customers to determine the vision that they have in mind for their home remodel, providing any necessary advice from our years of experience and wisdom in the field of beautiful stone craftsmanship. We are able to listen to your wish list, as well as your list of concerns, and steer you in the best possible direction. We have some customers who already know exactly what they want and simply need a professional to get the ball rolling, where there are other customers who are very new to the remodel countertop game and have a very open palette in mind.
Aside from providing top notch materials with color and texture schemes that are a perfect fit for your home, another factor that makes Moreno one of the best is our pursuit for the heart of the customer's needs. If your schedule is too busy to meet during the day, then we can work around that snag and meet you outside of traditional business hours. We will provide templates for your project and walk with you through every step of the process, treating your home and your new natural stone as if it were our very own.
We strive to be the most capable and affordable countertop specialists in your area, and we look forward to getting the opportunity to join you in your next remodeling adventure!