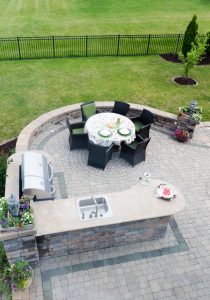 With Spring Break in the air, it's time to officially start planning to spend more time outdoors with your family and friends. Although a few cold nights might still linger here and there, the temperatures are rising, and your backyard and patio are calling your name!
Whether you are sprucing up your outdoor kitchen from last year's use or building a brand new structure, it is important to consider only the best materials for what will become one of the most popular gathering spots on the entire block. Once you invite your closest friends and neighbors over to enjoy a meal on your new and improved patio, they will be asking to return at each and every opportunity provided. It is one thing to be a great host for your guests. However, when you can provide gracious hospitality along with a beautiful and fully functional outdoor kitchen, your popularity will sky rocket as you bring hosting an impromptu dinner to a whole new level.
One of the potential reasons why your outdoor kitchen can become so popular and easy to use is because of the choice of countertop material. Granite countertops are the ideal choice for any outdoor kitchen and patio environment because of their versatility and durability. Not only do they look great and match with a wide range of décor and styles, but they are made to endure both interior and exterior environments and can stand the test of time that the weather and elements of nature can bring.
At this point, you might think of your outdoor patio and kitchen area as very hopeless and ordinary. However, with the addition of granite countertops, the entire space will come alive in a way you never thought possible! That "wow factor" which you saw in a magazine or at a friend's house will now be yours to enjoy on a daily basis. All because of the design and installation of the simple yet elegant choice of granite.
Call us today at Moreno Granite and Marble to learn more about our fabrication process and how our project managers will work with you to find the perfect color scheme and texture for your patio. Our hard work and keen eye never disappoints, and we will work hard to bring your dreams to reality and bring you an outdoor space for the whole community to enjoy!