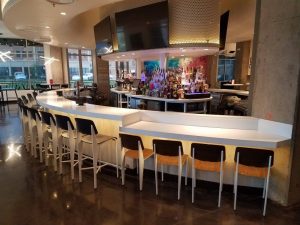 Are you in the planning and decorating stages for your business? Perhaps you are under new construction or maybe just extensive renovation. Putting the pieces together and pairing your vision with your budget can sometimes be a tricky process.
You have probably looked around at other commercial properties that share your particular target audience, the type of customer that you plan to welcome through your doors. You know what it is that you want to accomplish, but you are lacking the resources necessary to get you there. At Moreno Granite and Marble, we strive to bring our customers an amazing product at a fair price. We recognize that your commercial property is your pride and joy, and we take on each and every project with great care and attention to detail.
Adding a radius bar top to your restaurant or office is an excellent way to provide a beautiful and functional space for your customers. A curved bar top that is made out of natural stone, such as granite, brings a luxurious touch and creates a piece of art that will capture the attention of anyone who walks by. Although some may think that the posters and prints that are hung on the walls are the biggest draw to customers, we know that the furniture and customized tables and bars are just as important in honing in on the aesthetic appeal of your business.
If you are a local DFW business owner who is looking to go with a new radius bar, then Moreno should be your first and only phone call to make! Our initial consultation with you will allow for our staff to walk you through every step of the design, fabrication, and installation process. We provide each of our customers with personal attention and desire to hear both your wants and needs for the upcoming project at hand. We look forward to hearing from you and learning more about how our expertise can benefit the growth and beauty of your business!