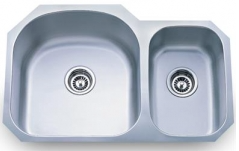 With a big remodel in your future, it's easy to get caught up in the many details of it all. There are samples to choose from, angles and heights to measure and remeasure, and a continual comparison of prices and services between the leading companies at hand. You want to make decisions that are best for your home and your budget.
When planning a new project in your kitchen, we know that a lot of thought and design goes into choosing the right countertops. This surface is where you spend much of your time in the kitchen…chopping, mixing, catching up on homework, and much more. Natural stone is a great choice because it is both beautiful and durable, and it's classic look goes well with any style. But, what about the details beyond the countertop?
Another busy spot in every home is the kitchen sink. Every meal of every day requires a little wash here or rinse there. Whether you are cleaning your hands before you get started or finishing up a huge load of dirty dishes after a family dinner, the sink takes on a lot of wear and tear. This is why your sink needs to look great but also withstand the giant mess that it will often contain.
At Moreno Granite and Marble, our project managers do a great job of working with each customer regarding every detail of their home project, even down to the kitchen sink. We have a variety of stainless steel sinks that we recommend for our customers depending on how much space they have to work with and what type of functionality they require. Some need only a small space to wash hands or rinse a few dishes, while others need a double sink with lots of depth.
We work with each customer to find the fit that is best for them. Call us today and let us get started on your next kitchen project!