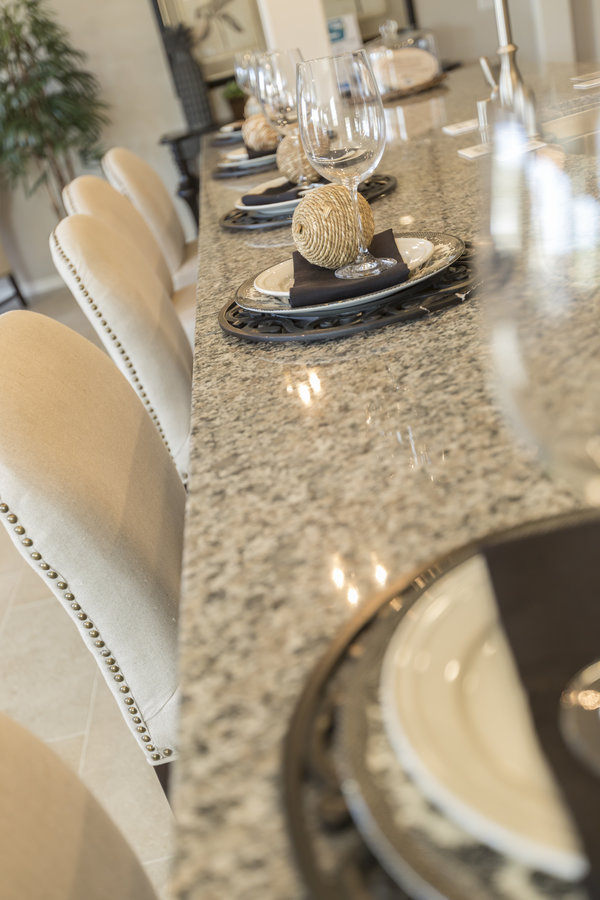 Ready or not, 'tis the season to start planning for the holidays! A busy fall calendar leads straight into Thanksgiving and then Christmas is just around the corner. As you prepare your home for all of the various family gatherings over the holidays, keep in mind where it is that most of your quality time will be spent… around the dining table.
Adding a new table to your dining room is a valuable investment. This sacred space is not merely a thrown together spot for quickly choking down your food but a place that is meant to host lingering conversations and quality moments spend with loved ones. Your holiday mealtime often becomes a lasting memory to pass along from year to year, and, for this reason, it's important that you offer your family the best dining experience that you can.
A granite dining table provides an elegant surface that will become a focal point of your home. You will find yourself standing back in awe of the beauty of the table itself, even before your favorite foods are scattered across it. And, as an added bonus, this beautiful table is also quite functional! You can place your hot dishes directly onto the table without having to worry about dozens of tacky pot holders or trivets taking up extra space. The natural stone surface can withstand all the wear and tear that a table full of messy eaters throws your way, and clean up is always easy when you're working with granite.
At Moreno Granite and Marble, we are excited to work with each of our new clients on their custom dining projects. Give us a call today, and we'd love to get started in helping you design the table that will host your beloved family gatherings for years to come!