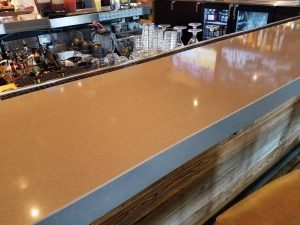 Is your new business under construction? Are you remodeling your existing property after years of being highly outdated? There is a lot of work and brainstorming that goes into a commercial property design, from the sign out front to the cushions inside. Every detail must be considered and every dollar spent well. At Moreno Granite and Marble, we recognize how hard our clients work to earn their money and how carefully they want to invest in a company that is trustworthy and legit, and that is why those principles of hard, honest work and superior craftsmanship are the foundation of our business.
When it comes to the design for your new bar, you can depend on Moreno to get the job done right and in an efficient and affordable manner. We don't cut corners, but, instead, we listen to what our customers want and need in their new space and tap into all of our resources and talents to make that happen. Our team consists of creative designers and technicians who will take your vision, offer any applicable recommendations, and then jump into the process of making things happen. Natural stone is one of the most popular and long lasting materials to build your bar top from because of its strong and forgiving surface material. When a stone countertop is properly installed and sealed, it can last a lifetime and stand up to the toughest messes and spills while maintaining its beauty and charm.
When you are putting in a new bar, you have to remember that this bar top will become the focal point of your commercial space, whether you want it that way or not. Customer's attention will be drawn to this structure, and you want it to really pop. Granite is always a popular choice because of all of the versatility that it offers in textures and colors, being vibrant yet classy. However, there are a large number of other natural stone materials to choose from, and our team at Moreno Granite and Marble will point you in the direction of the natural stone that will work best for you!
The work that we do, both in residential and commercial properties, across the Dallas area showcases both our craftsmanship and our superior customer service. Our project managers work with each client from start to finish, ensuring that your vision and dream for your space is what fuels the job that is being done. Give us a call today at 972.487.7987 to learn more about getting started on your new stone project!