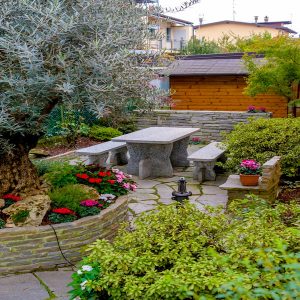 When it comes to remodeling your home and adding new, luxurious touches, don't leave your patio behind! Many times we look around the house and find rooms that we'd like to spice up a bit or transform completely. Maybe you already discovered your love for natural stone back when you added granite countertops to your kitchen or marble accents to your bathroom. But what about bringing that same beautiful stone to your favorite spot outdoors?
Creating a beautiful scene on your patio makes all the difference when it comes to enjoying a relaxing evening or a weekend brunch. Maybe you've already added granite to your outdoor kitchen or firepit, but have you considered a custom granite bench to bring both function and style to your outdoor oasis?
At Moreno Granite and Marble, we love taking our clients on the adventure of a customized granite project! When using natural stone, the possibilities are virtually endless when it comes to the color and texture of the materials you choose. Every stone slab is a bit different from the other, so you can find a unique look that matches the vision you have in mind. We have the ability to create endless shape and edge designs, so your bench will stand out from anything else you have seen before.
Call us today, and we would love to discuss your custom patio project with you! Our work is both unique and dependable, and we know that we will bring the "wow factor" to your new stone project.