Upgrading your bathroom countertop begins with knowing which stone material is best for you based on your budget, your bathroom style, and how you will be using your bathroom. This guide will show you the benefits and functionality of each stone so you can choose the best bathroom countertop that fits your needs and complements your bathroom's style. Here's a list of the most common stone materials used for bathroom countertops and which situations they are best for.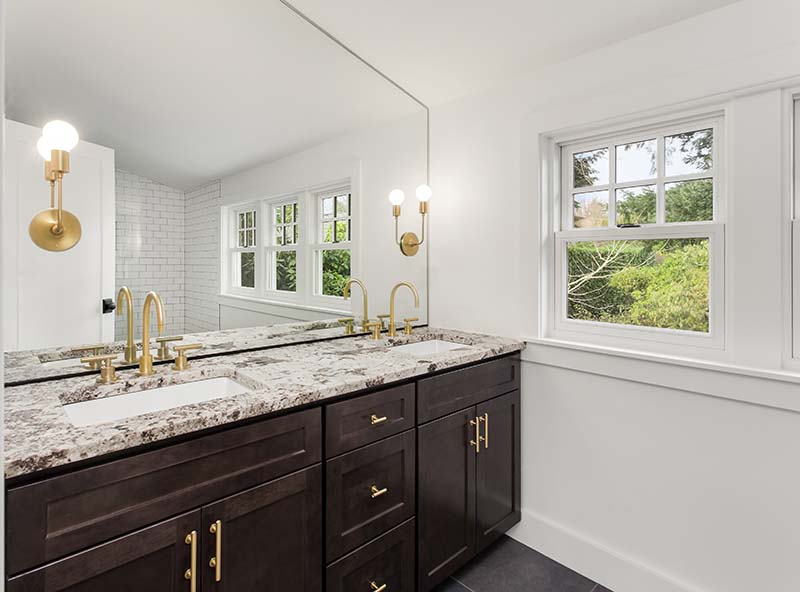 Quartz bathroom countertops
Quartz is one of the most cost-efficient and durable countertop materials you will find on the market. Quartz countertops often last a very long time because they are non-porous, resistant to staining, chipping, and cracking, and never require sealing or waxing. Quartz countertops come in a wider range of colors, textures, and tones than natural stone countertops, which often makes it the best choice for many homeowners.
Marble bathroom countertops
Marble bathroom countertops are often sought after by homeowners because of its elegant look and feel. Marble countertops are sleek, resistant to denting and chipping, and they will provide an instant feeling of value and sophistication to your bathroom. Polished marble countertops will produce a glossy finish that can fit with many different sinks and bathroom vanities.
Granite bathroom countertops
Granite is known for its unique and striking array of patterns and colors. It's excellent for heat resistance and does a good job of preventing stains. While granite does require a bit more maintenance than other countertop materials, it is still long-lasting and resistant to water, stains, scratches, and it's relatively easy to clean. Many homeowners choose granite bathroom countertops for their superior durability and high-end stone quality.
Concrete bathroom countertops
Concrete bathroom countertops are inexpensive and offer great flexibility and customization to fit the look and feel of your bathroom. Concrete is very easy to repair compared to other stone materials used for bathroom countertops. Concrete's durability and its simple, inexpensive nature is what makes many homeowners choose it for their new bathroom countertop.
Are you planning on upgrading your bathroom countertop? Contact us for advice and a free estimate.