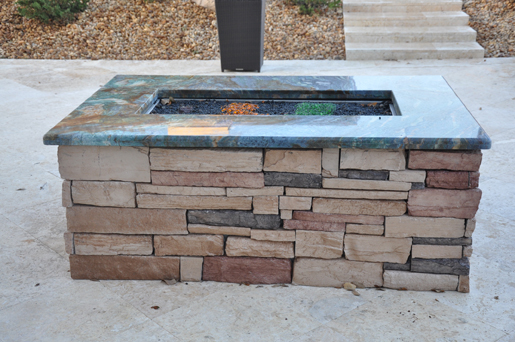 As the weather gets colder, we tend to find ourselves longing for something warm…a blanket, a hoodie, or the cozy vibe of a nice fire. Some think that fires are reserved only for an indoor fireplace or the annual family camping trip. However, you can create a space in your very own backyard and build a fire whenever you want.
Day or night, summer or winter, guests or no guests, the choice is yours! Adding a fire pit to your patio allows you to enjoy this little oasis of warmth in the midst of entertaining guests or when you just need a retreat for some alone time. Beyond the functional aspect of the fire itself, the fire pit also functions as an accent piece that will bring a luxurious touch to your patio.
Choosing a granite cap for your fire pit will really bring the outdoor experience to life. It will create a more formal vibe for hosting friends and family and become one of the most popular gathering places for the winter season. Aside from its beauty, granite is the perfect choice for your outdoor needs because of its durability. It will stand the test of time and look as good for you next winter as it does today. Give us a call at Moreno Granite and Marble to get started on this fun project!