When renovating your kitchen or bathroom, the choice of countertop material takes an important place. The goal is often to find the best value for money that meets your needs and your budget. Despite a slightly higher cost than melamine, buying quartz countertops is a great investment. However, like any purchase, it is important to have the proper insight to be able to make an informed choice.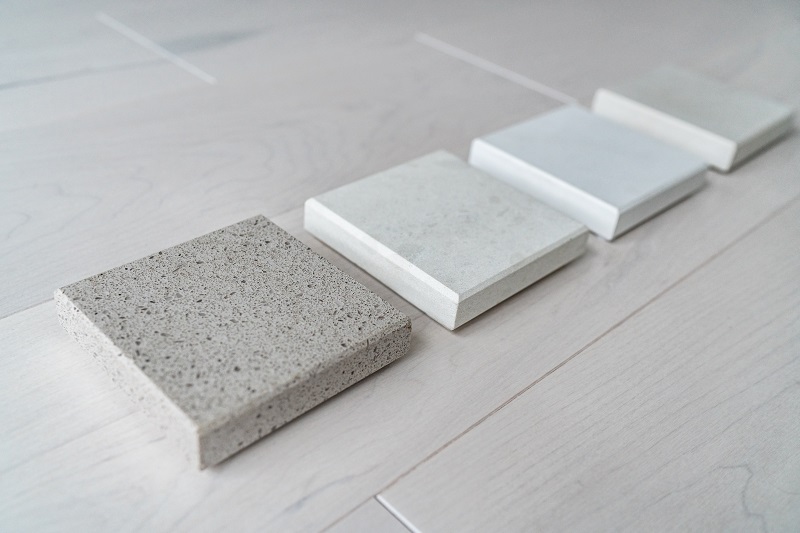 Why quartz?
Unlike marble and granite, quartz slabs do not come directly from the quarry. Rather, they are designed in the factory from quartz crystals, but also marble and granite residues as well as a recycled industrial waste of ceramic, glass, mirrors, and silica. In order for all the elements to hold together, a polymer or resin glue is used. This engineered stone has many beneficial characteristics for manufacturing kitchen or bathroom countertops.
Quartz countertops, a robust and healthy choice!
Not many people know it, but quartz is one of the strongest materials available on Earth. Its hexagon structure gives it excellent resistance to pressure, impact, and scratches. It supports the daily life of any family. However, to prevent premature wear and tear on an area of ​​the countertop or your knives, it is generally recommended that you use a cutting board. In addition, quartz has some resistance to heat, but prolonged exposure can cause dark circles. We recommend that you use trivets, especially when the dishes are taken out of the oven.
Also, the crystal and resin composition of quartz countertops create smooth, non-porous surfaces. These countertops are very hygienic and limit the proliferation of bacteria. It is therefore a healthy and safe choice for the whole family. Plus, quartz cleans up in the blink of an eye. All it takes is a clean cloth and a little soapy water to avoid stains on the surface. Moreover, unlike marble and granite, quartz does not require annual maintenance with a sealer or waterproofer. It is very easy to maintain the luster and physical qualities of quartz countertops.
The variety of quartz countertops
Another important characteristic of quartz is the vast choice of colors, patterns, and textures. Again, this quality is due to the manufacturing process of this material. When creating the mixture, the maker chooses the different crystals to form the desired texture and also adds color pigments to the resin. This technique makes it possible to manufacture slabs in large volumes and in different styles.
Whether your kitchen is rustic, modern, or fashionable, you will certainly find the quartz that suits your needs at Moreno Granite & Marble. This investment will not only be of excellent quality, but you will also get the kitchen of your dreams. Contact us today to get started!