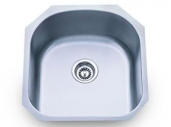 If your household is anything like the rest of ours, then you know that the hustle and bustle of the city streets is nothing compared to the traffic that comes and goes throughout your home. Between the kitchen and the laundry room, there is always someone looking for a snack or needing something cleaned. This area of your home is where you and your family spend the majority of your time together preparing for the day and reorganizing yourselves for the week ahead, and it's high time that you added more functionality and ease to this busy space.
By adding granite countertops and a stainless utility sink to your laundry room, you are giving yourself one of the best gifts that you could ever receive. Having counter space to sort and fold clothes and having a sink handy to rinse out stains and soak special garments is an invaluable addition to any home, and the value can be found in both dollars and cents as well as time itself.
By having a utility sink, you will save yourself time in walking back and forth dragging laundry around that needs special treatment because you can do it all there in the same room. You can also use your utility sink for messes that you don't want tracked into the kitchen, such as washing dirty hands and faces that have been playing out in the mud all day. The time and effort that you save yourself by having an efficient laundry area will open up the rest of your day and provide more free time and energy to step away from chores.
Contact us at Moreno Granite and Marble to learn more about all of the ways in which we canbring functionality to your home with natural stone countertops, stainless steel utility sinks, and more. We can't wait to get started on your next home renovation project!