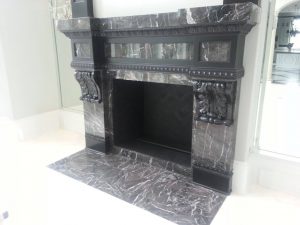 Has your home been lacking that certain something? You have an overall style for your home, but each room is a bit different. There are various paint colors and decorative themes, yet it can all be tied together with the right centerpiece. We suggest that the installation of an elegant and bold stone fireplace is just what your home needs to bring every room together and create a full masterpiece to show off to others and enjoy for yourself.
A fireplace that is crafted from authentic natural stone is the perfect addition to any home because of the versatility that it provides. There are countless different options as you browse through slabs of stone that differ in texture and color. You may prefer a rougher and more rugged fireplace while others want a more classic and polished look. From black to white to all shades of brown and gray, the possibilities are endless when it comes to selecting a stone material that looks best in your living room or dining room. Some even choose to install a stone fireplace in their kitchen or bedroom. Again, the possibilities abound!
At Moreno Granite and Marble, we approach every customer and every project with extreme confidence and creative energy. Our project managers get the ball rolling by sitting down to discuss the overall vision for your new stone fireplace and take note of all the special considerations that you have in mind. We want to pair your ideas with our expertise and create a bold statement of beauty and charm for your home. Our talented team of technicians will fabricate and install a product that is worthy of all of your fireplace dreams, and we enjoy stepping up to take on any challenge that a designer or homeowner may present to us.
Call us today to learn more about the natural stone possibilities that we can bring to your home!