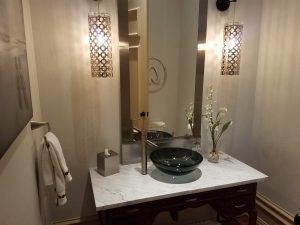 Are you tackling a bathroom remodel and determining exactly what look you have in mind? Maybe you are building a new home and working to establish just what design and vibe your bathroom will have? At Moreno Granite and Marble, we totally understand how heavy these decisions can become as you wrestle with all of the different choices in style and price when it comes to bathroom details and accessories. The countertop material that you choose for your bathroom will play a very large part in determining the overall vision because it typically becomes the focal point upon entering the room.
White Carrera marble is the ideal choice for your upcoming bathroom project because of its durability and timeless beauty. These days, marble can still be found in palaces across the world while also making itself comfortably at home in a DFW neighborhood. Such a luxury is now available to the average homeowner who is looking for a way to spice things up a bit and bring a whole new level of elegance to their countertop. This natural stone material is uniquely patterned, so no two slabs will be exactly the same. This feature is a major selling point for those who want to model the look of their home after a neighbor's home or an article they saw online, yet they want to tweak the vision to become their own.
Our project managers and design specialists at Moreno have a wealth of experience in taking that vision that has been twirling around in your head and making it a reality in your own home. We will sit down with you and look through all of the marble possibilities that interest you and find the design that works best for you and your specific bathroom needs. This room of your home sees a lot of busy traffic as you are preparing for the day or hosting various guests, and you need a product that can stand the test of time without losing its beauty.
Call us today at 972.487.7987 to learn more about what our talented team of technicians can do to better serve you and your DFW home. Any remodeling project that you have in mind will be made easier with our expertise!