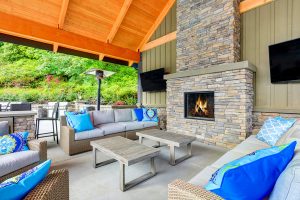 Has your backyard been missing that wow factor? You have not yet arrived at the place where you want to be with the patio and waterscape design, but you can't determine what it is exactly that is lacking. The pool is gorgeous, and the kitchen and grill area provides everything you need to cook for and serve your guests. But what about the space you have for just sitting around and talking?
Good conversation often flows out of a well-designed patio setting, and nothing creates a focal point for such a space quite like an outdoor fireplace. Majestic yet homey, a natural stone fireplace is the perfect addition to any outdoor patio or dining area that needs a pick-me-up. This showpiece will create a statement of both art and function as it serves as the most pronounced feature that will catch the eye but also take the chill off of a breezy summer evening.
At Moreno Granite and Marble, we have had the pleasure of working with various clients all across the Dallas-Fort Worth area who have opted to bring the beauty of stone into their backyard. Whereas many people think of a fireplace as something reserved only for indoors, many others are catching onto the trend of bringing that rustic beauty outdoors, as well. Our project managers step into the home of every single client that we join hands with, and their goal is to join you in the design phase by creating a vibe that flows well and brings that dream in your head to life.
Often we, as homeowners, know that we want something different, whether remodeling what already exists or adding something totally new, yet we can't quite express what it is that we have in mind. Our team at Moreno Granite is well seasoned in working with those such folks to nail down exactly what features you are interested in so that we can offer suggestions for what might work best. We work hard on every project that we take on to ensure that the technical details have been handled precisely and that the customer is receiving the reality of that dream that they were carrying around with them.
Your outdoor fireplace will quickly become your favorite part of your entire backyard. And, if you install this natural stone beauty right now during the heart of the summer, you will be able to enjoy it for your backyard barbecues and pool parties now and for all of your outdoor gatherings this fall and winter. This really is a year round investment that your family will love! Call us today to receive an estimate and to learn more about all that Moreno Granite can do to transform the beauty of your home!