The countertop is your utility's centerpiece and should be well fabricated and installed.  Countertop fabrication is a technical process that requires precise measurement, cutting, and fitting. The job also requires specialized tools and techniques and is best carried out by a professional stone fabricator.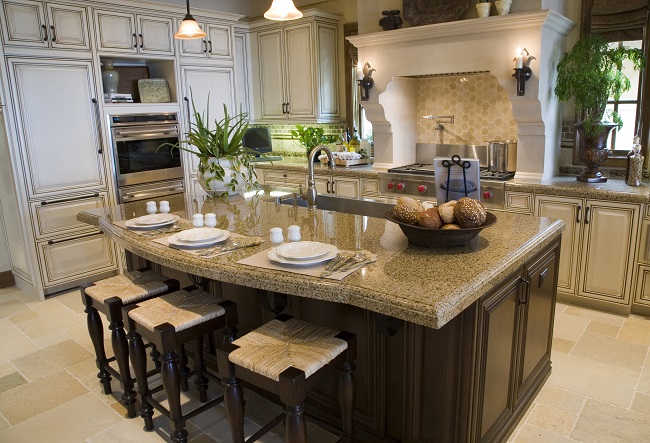 1.  Choosing the Stone
Your countertop fabrication begins with choosing your preferred stone. At Moreno Marble & Granite, we offer marble, granite, and quartz countertops.  Our staff will advise based on your kitchen design and desired finish and inspect the stone before cutting.
2.  Measurement and Templating
Our technicians will visit your home to measure and layout the template. Templating gives a picture of the finished countertop, including the flow of stone's features and positioning of utilities. Templating also paints a picture of your countertop's interaction with appliances such as cookers and the fridge. You do not want your fridge door to bump into the countertop's edge.
3.  Cutting and Fitting
The countertop is then cut into shape using either a bridge saw or a waterjet. The bridge saw is suitable for straight edges, while the waterjet suffices for curved edges. The cutouts for the cooktop, sinks, and faucets then take shape as marked in the template. Technicians have to cut the countertop precisely for the appliances to fit nicely.
4.  Strengthening the Stone
Strengthening is a specialized practice that some fabricators may not do. Cutting out holes in your countertop may leave thin rails on either side. Naturally, your countertop may break at this point. Natural Stone Institute's threaded rod technique, which increases strength by 400%, is one of the most preferred methods.
5.  Polishing and Sealing
The countertop's edges should pass the industrial standard seven-step polishing process. It involves using diamond polishing pads increasing the grit from 50 to 3,000.
Granite and marble countertops require sealing on the exposed faces and edges. But, quartz countertops are impervious to water and do not require sealing.
Call  (972) 487-7987 Moreno Granite & Marble, LLC for a countertop estimate or contact us for other inquiries.