Though it is a known fact that marble is more porous than other natural stones like quartz, most homeowners still love it. Any natural stone fabricator will tell how valued marble countertops are and why the request list for marble is always long. Here are some of the reasons why marble is a favorite stone for countertops: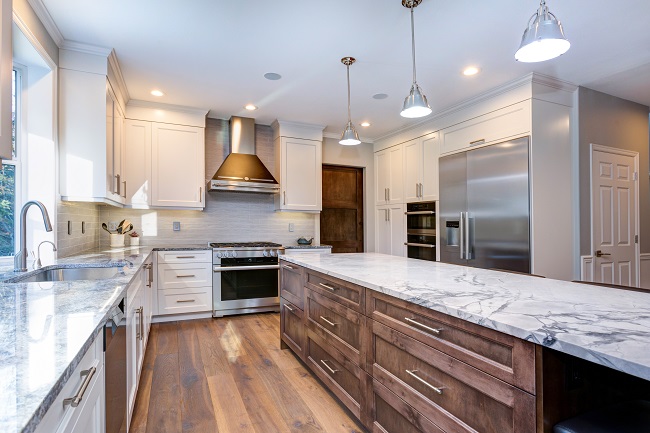 Marble is heat resistant- Marble naturally resists heat better than most natural stones. You can't even compare marble with resin-based engineered quartz when it comes to heat resistant. Marble is, therefore, your best choice if you need to surround a fireplace. If you are a baker, marble will be the best choice for your kitchen countertop.
Marble is Elegant- While most people go for trending countertops, marble is not trending. Marble is not a fad. Marble is elegant. Whether you use the glossy or honed marble, it will give your home a touch of royalty. Honed marble even makes it hard for anyone to notice any dullness that may occur as a result of age. The matte finish does not have the glossy shine; most homeowners love such silent glamour.
Available in varieties- When you choose marble, you are opening your world to a wide range of color hues. You can get a unique blend of white and grey marble, tan, brown, greyish-blue et cetera. You only have to envision how you want your kitchen to appear then buy marble that makes that vision a reality.
Easy to maintain- While it is true that marble is more porous and hence susceptible to stains than quartz, it is very easy to remedy this problem. Natural stone fabricators use impregnating sealers that fill pores beneath the surface allowing more time to clean spills. These sealers do not interfere with the natural appearance of the marble.
Durable- Apart from being resistant to heat, marble is unquestionably durable. Marble has an elegant glossy luster that lasts longer. Even if you decide to use honed marble, the soft, satin finish will last long giving your kitchen an elegant appeal.
Natural stone countertops can improve the value of your house. If someday you wish to sell it, potential customers will agree that you invested in your property and pay more for it. If you would like to have natural stone countertops, contact us today, we will be happy to serve you.