Quartz is a mineral that has an almost mystical appeal to some.  It is the result of high heat and pressure on some of the most common elements on our planet: silicon and oxygen.  But the way that the atoms align themselves under the conditions in which quartz is made give it unique properties that surpass basic sand.  Quartz atoms align in a tetrahedral matrix, which make it strong as well as giving it clarity and hardness.  Depending on which other elements were present during its formation, this can determine the color of quartz, from a rosy pink or blue to smoky or clarity with absolute transparency.  Quartz countertops make a great addition to your kitchen.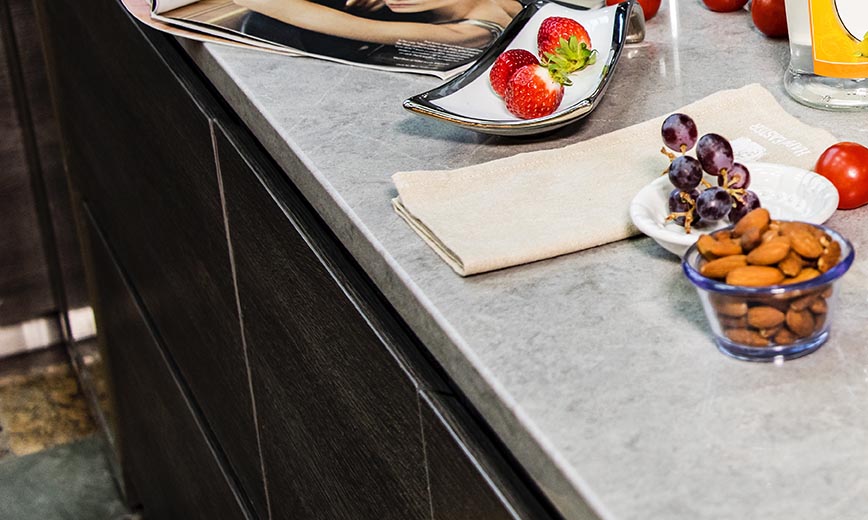 Why quarts makes a great countertop
Scratch resistant: Crystal can be brittle if struck, but its hardness is higher than that of steel, which means your chef's knife won't mar the surface during use as it would with many other countertop surfaces.
Chemical resistant:  For cleanup, almost nothing is better than quartz since this naturally occurring glass resists nearly every substance that could be corrosive.  You can't say that about stainless steel, and you certainly can't say that about marble.
Heat resistance: Since quartz was created under extreme temperatures, it is naturally resistant to what you will typically find in your kitchen, though heat can scorch quartz if you aren't careful.
Variety:  Quartz can be found in just about any color to match your kitchen.  From carnelian and amethyst to varying degrees of clarity, there is bound to be a quartz out there that you can appreciate and will add beauty and value to your kitchen.
We can't vouch for any mystical properties of quartz, but we can easily say that quartz will be a unique–as well as essential–feature of your kitchen that will last for many years to come!
The Moreno Granite & Marble, LLC difference
As a family owned and operated business serving the Dallas/Fort Worth area for over 10 years, we have the experience and knowhow to create your dream kitchen.  We offer a wide range of materials, from stone, granite, onyx, marble, travertine, soapstone, and quartz countertops to suit your needs as well as your budget.  Our experts offer design consultation, fabrication, and installation you need to make your kitchen the centerpiece of your home.
Contact us today to see how Moreno Granite & Marble, LLC can work for you!