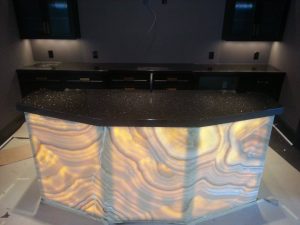 Have you recently discovered that your home is missing that certain something? Maybe you are building a home and are starting to see the blueprints become a reality but have decided that you're missing a certain element that would make your home really pop. Perhaps you are putting together plans for a big remodel of the home that you dearly love, and you are looking for something epic that will really transform the beauty of your home and bring it to the next level.
If you want to bring both luxurious beauty and an artistic flare into your home, then adding a transparent onyx bar is the way to go! Moreno Granite and Marble recognizes the true and utter beauty of natural stone and all its versatility, and we work diligently to find ways to bring this natural elegance into homes and businesses across the Dallas area. Our eye for detail paired with the timeless features of a natural stone slab like honey onyx will offer any homeowner the chance to invest in their property well by creating a masterpiece that really brings the wow factor to all the family and friends who will pass through your doors.
This transparent onyx bar will easily become the focal point of the kitchen or bar area of your home, and our project managers meet with each of our new customers to ensure that their vision of this new addition to the home compliments their existing space in every way. Our desire as a company is to create satisfied customers who will call on us again when the right project arises, as well as recommend our work to their neighbors and friends. We work with each of our customers, from the very beginning of consultation until the last element of installation is in place, with the aim of capturing the vision that they have for their home with a product that is the right fit. We will join you in looking at your home, both from a decorative and functional approach, and creating the perfect natural stone project.
If you can just close your eyes and picture this gorgeous onyx in your home or business, then give us a call at 972.487.7987 or visit us online today to learn more about how to get the process started. From initial conversation to installation day, we will work hard to deliver a seamless product with ultimate customer satisfaction in mind!