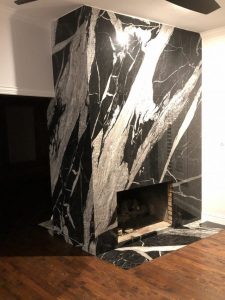 "Everything old is new again" so the saying goes. If your fireplace is looking outdated, consider marble as a solid option for updating and modernizing your fireplace's appearance.
If you've flipped through some home design magazines lately, you might have noticed the trend towards modern marble countertops or coffee tables in striking colors like solid black. What marble has done to modernize kitchens, it can do for your living room. Often, the fireplace is the focal point of your living area. Updating its look can have a big impact on the overall feel of the space. Plus, as opposed to renovating a kitchen or floor, the cost of re-facing your fireplace surround (or even the whole wall it's on) is considerably less. Splurging on a relatively small amount of marble can generate big bang for your buck.
Here are 5 reasons to consider refacing your fireplace in marble:
Marble is heat, fire, and water resistant. This makes it not only perfect for the area around your fireplace, but also means that spills are no problem. So enjoy that glass of wine by the fire.
Marble is easy to clean. Soot and ashes can easily be wiped away.
Marble comes in lots of variety. This natural stone comes in many colors, with a wide range of veining, from big and dramatic to small and classic, making it perfect for any style or decor.
Marble is durable and long lasting. You've seen those ancient statues in art museums. They're still here because they were sculpted from marble, making it a great option for a lasting fixture in your home such as a fireplace.
Marble fits all kinds of styles. Go floor to ceiling with a thin mantel or none at all for an ultra modern look. Add a natural wood mantel for a warmer, less formal room. Marble is classic precisely because it's so versatile.
You can see more marble fireplaces in our gallery. Want to get started on a new fireplace?  Moreno Granite and Marble can help you choose the right look for your home. Contact us today.