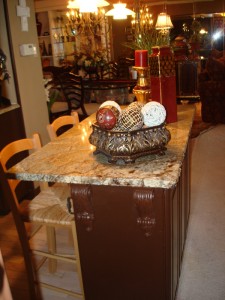 Granite Tabletops and Bars
When we are designing our new home or drafting out some desired renovations, we often go quickly to installing new countertops in our kitchen and bathroom. We want to choose a color and style that suits our taste and a material that is easy to clean and wears well. Natural stone is the best choice for our countertops, offering a variety of different looks and providing a product that will age nicely.

Let's not stop with the countertops, though! Natural stone, specifically granite, is also the best choice for your dining room tables and bars. These surfaces provide a place to feed your family and friends and are often one of the most popular gathering places in your entire home. Leisurely conversations over dinner are better enjoyed if the surface around which you are gathering is both functional and aesthetically pleasing.
Call Moreno Granite and Marble today and transform your dining area into the focal point of your culinary entertainment! Whether you're installing a new bar or desire a custom granite dining table, we will take your vision and work to achieve the purpose you have in mind!