Many have caught on to the fact that granite is a popular choice for kitchen countertops. They are installing this beautiful natural stone into their homes and enjoying the durability that it provides. However, many people overlook the option of granite for their bathroom countertops!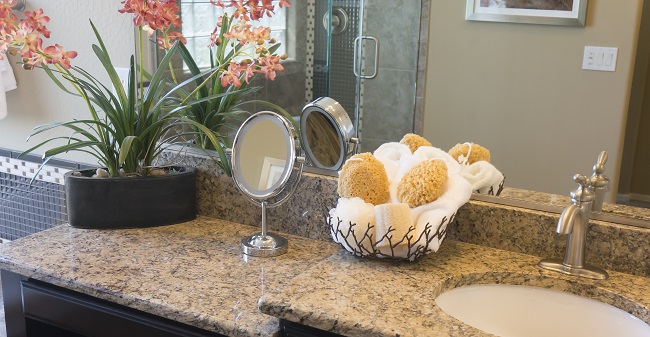 Remodeling an existing bathroom or adding on a new bathroom altogether are two common instances that send folks out shopping for countertop materials. There may already be some pieces in places such as sinks and commodes, so the countertop and accent pieces throughout the room need to mesh well with what you've got going so far. One can get overwhelmed with weighing all of the different options.
Granite is an excellent choice for bathroom work because it is both beautiful and durable. This is a room that will get a lot of use from those who live in your home as well as visitors, and you want the countertops to hold up to the wear and tear of such frequent use. Granite is easy to clean and holds up well to the spills and messes that come with the territory in this room of your home.
The luxurious appeal of granite can also add a classy touch in a most unsuspecting place. Those who enter the room will be pleasantly surprised that the details were not overlooked and that it matches the rest of your home in charm and style. Contact us today at Moreno Granite and Marble, and we would love the pleasure of working with you to find the right slab of granite and turn your basic bathroom project into a work of art!