When it comes to choosing a new kitchen countertop, many have a fondness for granite. Apart from its great natural beauty, what are the main characteristics of granite, and why do people prefer it over others? Read on to learn more about this beautiful, luxurious countertop stone material.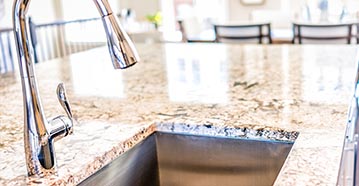 Main characteristics of Granite
Granite is a natural stone and not a resin. It comes from the bedrock, in the form of large blocks generally varying between 10 and 30 tons, from which pieces will be obtained about 9 feet long by 5 feet wide. The wide choice of colors available in the market is not the result of any factory manufacturing method, but of nature itself. Each piece of granite is unique and its large choice of colors, depending on the country it comes from (such as Italy or Canada), makes it a very popular material.
Rugged and antibacterial, granite is also known to withstand scratches, knocks, and high temperatures (but for brief periods of time). Granite is however porous and is less tolerant of oils and acids (e.g. lemon juice). For this reason, additional protection is usually applied directly at the factory to ensure greater waterproofing. Very easy to maintain, granite requires a simple cleaning with mild soap.
What are the available finishes for granite?
There was a time when, it seems, all granite countertops featured a smooth, shiny finish. However, there are other options available now:
Polished finish: The most classic type of finish. The surface is smooth and shiny, which makes maintenance very simple.
Matte finish: The surface will be smooth, but matte. For example, your granite will be charcoal gray if you choose this type of finish.
Flamed (or aged) finish: The surface will have a rather matte appearance and will have irregularities. Regarding the thickness of the countertop, polished, mat or flamed granite is available in a thickness of 3 cm (standard for a countertop) or even 2 cm for wall lifts (backsplashes and splashbacks).
Contact us to learn more!
Moreno Granite & Marble has provided some of the best granite countertops in the Dallas, TX area for over 10 years! Thanks to us, you will be able to choose from an incomparable variety of granites with innovative colors and patterns. Call us as soon as possible for a free quote on your next project!