Before you head to your next showroom to browse the countertop options, ask yourself these four questions. The answers can help guide your final selection.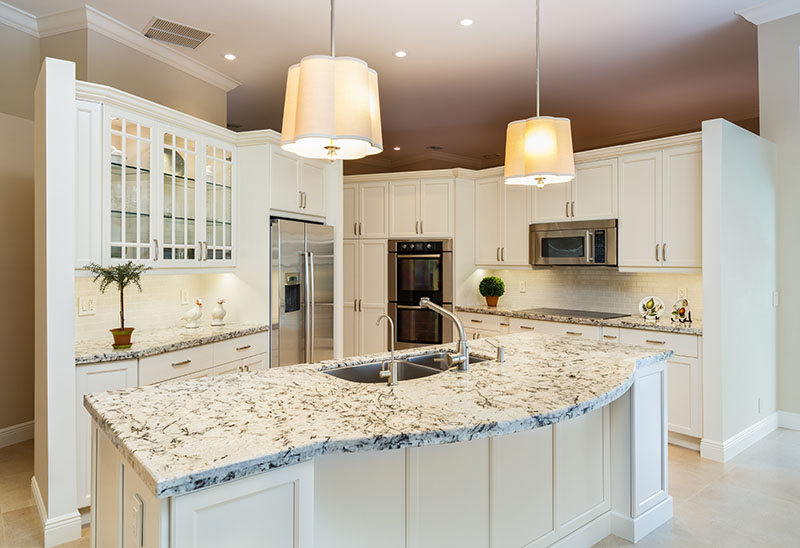 1. What color will your cabinets be?
Even big kitchens can seem cluttered. That's because the overhead cabinets block a lot of the lighting. Large appliances and cabinets can also make the headspace and footpaths feel more confined. Generally, dark cabinets need to be matched with light countertops (or vice versa). Before you select your favorite slab, decide if your cabinets are also going to be refinished.
2. Are you remodeling the bathrooms?
Kitchens and bathrooms play a large role in the final selling price if you put your home on the market. An easy way to play it safe and maximize your return on your remodels is to make them match. That doesn't mean they have to be identical. But if your kitchen is being redone in sleek soapstone and polished blue cabinets, the wood features in your bathroom may need to go.
3. What's the square footage?
There are a lot of reasons why your countertops' square footage plays a huge role in your remodel. First, you need to know if you like the small sample of stone enough to have dozens of square feet of it. Also, it can figure into the price. If there's a slab you love but your kitchen is just too big for every surface to have that price tag, you can save it for a kitchen island, accents, or a backsplash.
4. What are the maintenance requirements?
Some countertops need a lot of care and attention to stay looking-great. Marble, for example, needs to be sealed and kept clean. Wooden countertops need seals, stains, and moisture guards. Quartz is far more forgiving. Pick a stone that matches your preferences for maintenance.
For a wide selection of stone options, browse our gallery at Moreno Granite & Marble. Our experts can also help you narrow down your choices so you have the perfect material for your budget, style, and home.